DISCOVER OUR AREA
Between Normandy and Brittany
Camping Haliotis is situated on the banks of the River Couesnon which links Pontorson to the Bay of Mont St Michel. Along the 9 kms that separate the campsite from the Bay, the river passes through an area of marshland rich in coastal fauna and flora. Relatively rare species such as the heron 'cendré', the great cormorant, the water hen or the spotted salamander can be sighted.
Mont St Michel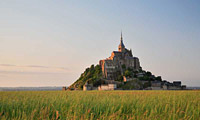 Standing against a backdrop of ever changing colours of sea and sand, the Mont St Michel is a place of outstanding beauty and fascinating history. Long before reaching Mont St Michel itself you will snatch glimpses of its silhouette towering up out of the sea on the horizon.
Climb the main street zig-zagging up past the middle aged houses before reaching the top of the mount with its Abbey, looking down on the waters of the bay bordering Normandy and Brittany.
The Abbey itself goes back to the 13th century and the northern façade is particularly stunning. The belfry seems to be suspended between the sea and the sky.
Camping Haliotis is just 9 kms off Mont St Michel. There is even the possibility of getting to this exceptional place, either on foot or by bicycle, along the banks of the River Couesnon.
Brittany and Normandy
Camping Haliotis straddles Normandy and Brittany just as Mont St Michel does, just 9 kms from the campsite. In one direction St Malo invites you to explore the magnificent 'Emerald Coast'. In the other direction Avranches entices you to discover the green and peaceful Normandy countryside which borders the long sandy beaches.
St Malo: About 40kms from Camping Haliotis, St Malo protects itself from the sea behind its massive stone ramparts. Take a step back in time, as you penetrate the heart of the old town, to the era when pirates reined the seas!
Avranches: The ruins of the medieval fortress of Avranches (23 kms from the site) together with a number of other historic buildings remain as witness to the towns rich past. Since 2006 the illuminated manuscripts of the monks of Mont St Michel are on view to the public.
Cancale: The jewel of the Emerald Coast, Cancale (25 kms from the Haliotis) is a little port sheltered by the "Pointe du Grouin". This headland of wild and natural beauty stretches out to sea offering one of the best views of the Bay of Mont St Michel.
Consultez également les sites suivants :

- Guide du Mont Saint Michel
- Guide de la Baie du Mont Saint Michel
Saint Malo :

© Jean-Philippe Delisle - Fotolia.com

Avranches :

© Ville d'Avranches / Service Communication

Cancale :

© Office du Tourisme de Cancale

Paysage normand - Cerisier en fleur :

CRT Normandie ©JF Lefevre

Mer démontée : © Copyleft Attitude