MIETUNTERKÜNFTE Unsere Kottages
We have a large choice of comfortable accommodations.

Our accommodations are for 2 to 8 people :

- 1 bedroom mobil-home (18m²) * up to 2 people

- Cottage Soléo 2 (23.80m²) * up to 4 people

- 2 bedroom mobil-home (29m²) * up to 6 people

- 3 bedroom mobil-home (35.70m²) * up to 8 people

- Coco Sweet (16m²) * up to 4 people

- 3 bedroom Zen mobil-home (30m²) * up to 6 people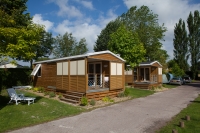 There are equipped with a kitchen (included a refrigerator, a microwave, a coffee machine, and dishes), a dining area, a shower-room with washbasin, and a WC.
You benefit from TV and sheets linen free of charge.


Coco Sweet is a new at the same time functional, playful and cosy concept, quite equipped on 16 m2. Coco Sweet, it is a new way of living its stays in the campsite(camping), particularly attractive and affordable to live up to 4 people. A marital bedroom, 1 twin bedroom, fan heating, a kitchen area with microwaves, refrigerator, kettle and coffee machine and the electricity, a terrace with canopy. Water tap next to the Cocos, campsite collective sanitaries.

To take advantage of the sun, on your terrace (covered or not – depending kind of accommodation), you will find a garden furniture and a sunbathing.

A baby kit (chair, bed and bath) can be provided (extra cost), if you ask when you book, according to availabilities.

When you book an accommodation you get free access to the aquatic space from the Village de Gîtes of Mont Saint Michel situated 2 kilometers far from our establishment (except when the swimming pool of Haliotis is open 01-05 till 30-09).